58 Years of Unsurpassed Product Quality, On-time Delivery,
and Customer Service
From prototype to production, Samax Precision provides component machining, subassembly, and turnkey services for the medical, aerospace, defense, and other industries.
Certifications
Samax is certified to ISO 9001:2015, ISO 13485:2016, and AS9100D, with documented compliance from initial POs to delivery.
Samax Quality Assurance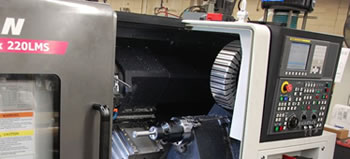 Modeled on ISO standards, our own quality assurance system tracks and documents everything we produce, from raw materials to finished products.
Company & Industry News
Find out what's happening at Samax, including employment opportunities, and learn about highlights in the precision machining industry.
Samax Precision Inc. acquires new Mori Seiki NTX 1000 Multi-Axis Turning Center.
Sunnyvale, CA based Manufacturer of precision machined parts, Samax Precision Inc. has furthered… – Read more