Our Mission and Our Promise
Located in the heart of Silicon Valley, Samax offers the highest-quality manufacturing solutions at a competitive price, from prototype to production. With 58 years of machining experience and broad industry expertise, we can take on projects and address problems that no one else can. Passionate about what we do, we are committed to continuous improvement. We promise to meet or exceed our customers' expectations for quality, on-time delivery, and service on every project we undertake.
A Brief History of Samax Precision
Samax Precision, Inc. (formerly Samax Tool and Die), was founded by Sam Costanzo, a World War II veteran who learned his love of machining serving on the USS New Mexico as a Machinist Mate. Following his honorable discharge from the U.S. Navy, Sam started as an apprentice at American Can Company, where he worked for the next 20 years. When he decided to start his own business in 1963, he rented a small space in his brother-in-law's shop in Sunnyvale, California. His first customer was his former employer, American Can.
After three years, Sam bought property on Evelyn Avenue in Sunnyvale and built a facility for his manufacturing operation. At first, he leased out much of the building to other businesses, but by the early 1980s Samax Tool and Die had expanded to take up the whole facility.
In the early years, Sam's customer base was primarily the canning industry, for which he manufactured seaming rolls using manual lathes, mills, and grinders. But eventually he branched out, purchasing NC machines, then CNC machines, to serve the medical, aerospace, defense, and other industries becoming Samax Precision Inc.
Since Sam passed away in 1996, his family has carried on his legacy, marking the 50th anniversary of Samax Precision, Inc., in 2013.
58 Years of Unsurpassed Product Quality, On-time Delivery,
and Customer Service
From prototype to production, Samax Precision provides component machining, subassembly, and turnkey services for the medical, aerospace, defense, and other industries.
Certifications
Samax is certified to ISO 9001:2015, ISO 13485:2016, and AS9100D, with documented compliance from initial POs to delivery.
Samax Quality Assurance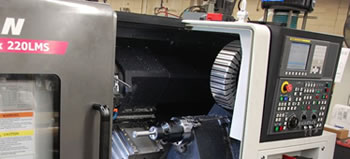 Modeled on ISO standards, our own quality assurance system tracks and documents everything we produce, from raw materials to finished products.
Company & Industry News
Find out what's happening at Samax, including employment opportunities, and learn about highlights in the precision machining industry.
Samax Precision Inc. acquires new Mori Seiki NTX 1000 Multi-Axis Turning Center.
Sunnyvale, CA based Manufacturer of precision machined parts, Samax Precision Inc. has furthered… – Read more